The most famous fjord by far is Milford Sound. Receiving over 200 inches of rainfall a year, the resulting glorious waterfalls are a wonder to behold. A trip onto the sound is to experience the quiet beauty of this unique spot with the opportunity to view birds and underwater sealife. Most go for just a day, but did you know you can spend a night on the sound?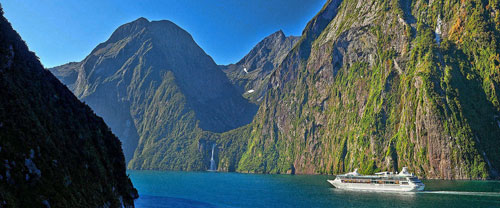 Bay of Islands


Cape Rienga, the very northernmost point in New Zealand, starts the Bay of Islands. See beautiful beaches and turquoise coves and go where the Kiwis go to vacation. Take a cruise to "Hole in the Rock" and visit the treaty house in Waitangi for a sound and light show covering from the time of Kupe, the first Maori to arrive, up to the present.
Auckland Harbor

Called the "City of Sails", the Aucklanders do love to get onto the water. The extensive ferry system takes you to the lovely town of Devenport or to the many commuter towns for Aucklanders going to and from work. You can go match racing aboard the NZL40 and the NLZ41, the authentic America's Cup yachts, or enjoy the many restaurants and bars of the Viaduct district.
Abel Tasman National Park
Abel Tasman National Park
You can only visit Abel Tasman by boat or by foot…no cars allowed! Sea kayaking or sailing are two popular ways to visit this lovely park nestled at the top of the South Island. Or you can walk the many trails and then catch a water taxi to take you back to civilization. A truly unspoiled paradise.